Mixing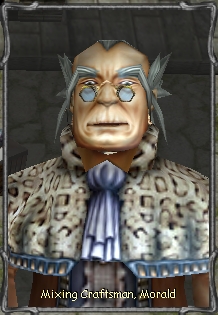 Mixing an item means to apply a mixture formula in a item for increase
the Stats of the Items without Increasing the Level Req.
Or without spending time maturing an Age Bar like u do when you age.
You can Mix your Weapons, Armors, Robes, Shields or Orbs
TO mix, you must to go to the "Mixing Craftsman, Morald", He is in Ricarten.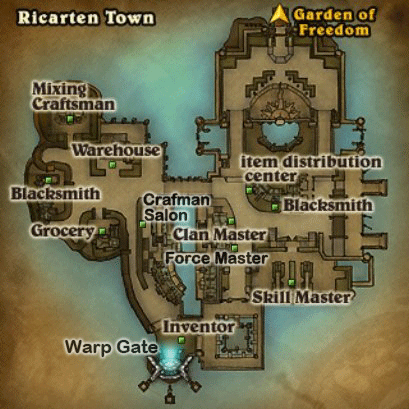 Add the Item in the Box where say Equipment,
Add the Sheltoms in the Box where say Sheltom,
You will need some gold also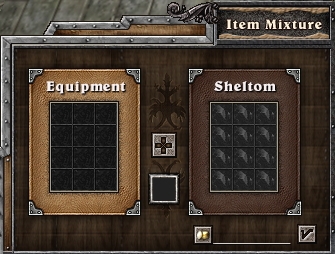 Detailed Mixing Information Below
| | |
| --- | --- |
| X 5 | |
| | |
| --- | --- |
| X 5 | |
| | |
| --- | --- |
| X 5 | |
| | |
| --- | --- |
| X 5 | |
| | |
| --- | --- |
| X 5 | |
| | |
| --- | --- |
| X 1 | |
| | |
| --- | --- |
| X 1 | |
X 1

| | |
| --- | --- |
| | Add STM +20 / Add MP +5 / Add HP +5 |
| | |
| --- | --- |
| X 1 , X 1 | |
| | |
| --- | --- |
| X 3 , X 3 | |
X 1 , X 2

| | |
| --- | --- |
| | Attack Rating +10 / Min DMG +1 |
X 1 , X 2

| | |
| --- | --- |
| | Attack Rating +10 / Max DMG +1 |
X 2 , X 2, X 2

| | |
| --- | --- |
| | Attack Rating +20 / Min & Max DMG +1 |
| | |
| --- | --- |
| X 1 , X 2 | |
| | |
| --- | --- |
| X 1 , X 2 | |
X 1 , X 2 , X 2, X 1

| | |
| --- | --- |
| | Critical +2% / Min & Max DMG +1 |
X 1 , X 1 , X 4 , X 4

| | |
| --- | --- |
| | Attack Rating +10% / Max DMG +4 |
X 2 , X 2 , X 1 , X 3

| | |
| --- | --- |
| | Critical +4% / Min & Max DMG +3 |
X 1 , X 1 , X 2 , X 4 , X 1

| | |
| --- | --- |
| | Attack Rating +10% / Min DMG +1 / Max DMG +4 |
X 1 , X 3 , X 5 , X 1

| | |
| --- | --- |
| | Attack Rating +40 / Min DMG +3 / Max DMG +5 |
X 5 , X 3 , X 2

| | |
| --- | --- |
| | Critical +4% / Attack Rating +60% / Max DMG +6 |
X 2 , X 2 , X 2 , X 2 , X 2

| | |
| --- | --- |
| | Attack Rating +80 / Critical +2% / Min & Max DMG +4 |
X 3 , X 3 , X 2 , X 2

| | |
| --- | --- |
| | Critical +4% / Add MP +20 / Min & Max DMG +6 |
X 2 , X 2 , X 1 , X 3

| | |
| --- | --- |
| | Attack Rating +60 / Add HP +20 / Min & Max DMG +6 |
| | |
| --- | --- |
| X 1 | |
X 2 , X 2 , X 3 , X 3

| | |
| --- | --- |
| | Attack Rating +100 / Critical +3% / Min & Max DMG +6 |
X 1 , X 4 , X 2 , X 4

| | |
| --- | --- |
| | Attack Rating +80 / Add HP +30 / Min & Max DMG +7 |
X 2 , X 1 , X 2 , X 3 , X 2

| | |
| --- | --- |
| | Critical +5% / Add MP +30 / Min & Max DMG +7 |
X 5 , X 4 , X 3

| | |
| --- | --- |
| | Critical +4% / Add MP +50 / Min & Max DMG +7 |
X 5 , X 5

| | |
| --- | --- |
| | Critical +4% / Add HP +50 / Min & Max DMG +7 |
X 1 , X 1 , X 5 , X 5

| | |
| --- | --- |
| | Attack Rating +80 / Critical +5% / Min & Max DMG +7 |
| | |
| --- | --- |
| | Armors/Robes Mixture Formulas |
| | |
| --- | --- |
| X 5 | |
| | |
| --- | --- |
| X 5 | |
| | |
| --- | --- |
| X 5 | |
| | |
| --- | --- |
| X 5 | |
| | |
| --- | --- |
| X 5 | |
| | |
| --- | --- |
| X 2 , X 2 , X 2 , X 2 , X 2 , X 2 | |
| | |
| --- | --- |
| X 1 | |
| | |
| --- | --- |
| X 1 | |
| | |
| --- | --- |
| X 1 | |
| | |
| --- | --- |
| X 2 , X 2 | |
| | |
| --- | --- |
| X 1 , X 2 | |
X 3 , X 3

| | |
| --- | --- |
| | Defense Rating +30 / Absorb Rating +0.6 |
X 1 , X 2 , X 1 , X 1

| | |
| --- | --- |
| | Defense Rating +40 / Absorb Rating +0.4 |
X 1 , X 2 , X 5

| | |
| --- | --- |
| | Defense Rating +45 / Absorb Rating +1.0 |
X 1 , X 4 , X 1

| | |
| --- | --- |
| | Defense Rating +10 / Absorb Rating +1.5 |
| | |
| --- | --- |
| X 1 , X 2 | |
X 4 , X 4 , X 3

| | |
| --- | --- |
| | Defense Rating +40 / Absorb Rating +3.0 |
| | |
| --- | --- |
| X 3 , X 3 | |
X 2 , X 2 , X 2

| | |
| --- | --- |
| | Defense Rating +20 / Absorb Rating +3.4 |
| | |
| --- | --- |
| X 1 , X 4 | |
X 1 , X 1 , X 2 , X 3

| | |
| --- | --- |
| | Defense Rating +40 / Add MP +30 |
X 1 , X 3 , X 2

| | |
| --- | --- |
| | Absorb Rating +3.5 / Add HP +20 |
| | |
| --- | --- |
| X 1 | |
X 2 , X 2 , X 3 , X 3

| | |
| --- | --- |
| | Defense Rating +50 / Add MP +40 |
X 3 , X 3 , X 1 , X 3

| | |
| --- | --- |
| | Absorb Rating +4.0 / Add HP +25 |
X 1 , X 2 , X 5

| | |
| --- | --- |
| | Defense Rating +50 / Absorb Rating +4.0 |
X 5 , X 5

| | |
| --- | --- |
| | Defense Rating +60 / Add MP +50 |
X 1 , X 5 , X 1 , X 5

| | |
| --- | --- |
| | Absorb Rating +4.0 / Add HP +40 |
| | |
| --- | --- |
| X 5 | |
| | |
| --- | --- |
| X 5 | |
| | |
| --- | --- |
| X 5 | |
| | |
| --- | --- |
| X 5 | |
| | |
| --- | --- |
| X 5 | |
| | |
| --- | --- |
| X 2 , X 2 , X 2 , X 2 , X 2 , X 2 | |
| | |
| --- | --- |
| X 1 | |
| | |
| --- | --- |
| X 1 | |
| | |
| --- | --- |
| X 1 | |
| | |
| --- | --- |
| X 2 , X 1 | |
X 3 , X 1 , X 1

| | |
| --- | --- |
| | Defense Rating +15 / Absorb Rating +0.3 |
| | |
| --- | --- |
| X 2 , X 2 | |
X 1 , X 1 , X 2

| | |
| --- | --- |
| | Defense Rating +10 / Absorb Rating +0.6 |
X 2 , X 2 , X 2 , X 1 , X 1

| | |
| --- | --- |
| | Defense Rating +20 / Absorb Rating +0.3 |
X 1 , X 4 , X 1

| | |
| --- | --- |
| | Absorb Rating +0.6 / Block Rating +4% |
X 4 , X 4 , X 1

| | |
| --- | --- |
| | Defense Rating +40 / Block Rating +2% |
X 2 , X 1 , X 1 , X 1 , X 2

| | |
| --- | --- |
| | Defense Rating +20 / Block Rating +4% |
X 4 , X 1 , X 1 , X 1

| | |
| --- | --- |
| | Defense Rating +40 / Add MP +10 / Add STM +50 |
X 3 , X 1 , X 2

| | |
| --- | --- |
| | Block Rating +3% / Add HP +20 |
X 5 , X 2

| | |
| --- | --- |
| | Absorb Rating +1.0 / Add MP +20 |
X 3 , X 1 , X 2

| | |
| --- | --- |
| | Absorb Rating +0.6 / Add HP +40 |
| | |
| --- | --- |
| X 1 | |
X 1 , X 3 , X 2 , X 3

| | |
| --- | --- |
| | Defense Rating +50 / Add MP +20 / Add STM +60 |
X 2 , X 3 , X 3 , X 2

| | |
| --- | --- |
| | Block Rating +4% / Add HP +30 |
X 3 , X 1 , X 2 , X 2

| | |
| --- | --- |
| | Absorb Rating +2.0 / Add MP +30 |
X 3 , X 2 , X 3

| | |
| --- | --- |
| | Defense Rating +60 / Block Rating +5% |
X 5 , X 5

| | |
| --- | --- |
| | Absorb Rating +2.0 / Add HP +20 / Add MP +20 |
X 2 , X 2 , X 2 , X 5

| | |
| --- | --- |
| | Block Rating +4% / Add HP +50 |
| | |
| --- | --- |
| X 5 | |
| | |
| --- | --- |
| X 5 | |
| | |
| --- | --- |
| X 5 | |
| | |
| --- | --- |
| X 5 | |
| | |
| --- | --- |
| X 5 | |
| | |
| --- | --- |
| X 2 , X 2 , X 2 , X 2 , X 2 , X 2 | |
| | |
| --- | --- |
| X 1 | |
| | |
| --- | --- |
| X 1 | |
| | |
| --- | --- |
| X 1 | |
| | |
| --- | --- |
| X 2 , X 1 | |
X 3 , X 1 , X 2

| | |
| --- | --- |
| | Defense Rating +15 / Absorb Rating + 0.4 |
| | |
| --- | --- |
| X 4 , X 4 | |
X 1 , X 2 , X 2

| | |
| --- | --- |
| | Defense Rating +10 / MP Regen +0.4 |
X 2 , X 2 , X 2 , X 2 , X 1

| | |
| --- | --- |
| | Defense Rating +20 / MP Regen +0.2 |
X 3 , X 3 , X 1

| | |
| --- | --- |
| | Defense Rating +10 / MP Regen +0.6 |
X 5, X 5 , X 1

| | |
| --- | --- |
| | Defense Rating +50 / Absorb Rating +1.0 |
X 2 , X 1 , X 1 , X 1 , X 2

| | |
| --- | --- |
| | Defense Rating +40 / MP Regen 0.4 |
X 5 , X 1 , X 2 , X 2

| | |
| --- | --- |
| | MP Regen +0.5 / Add MP +40 |
X 2 , X 1 , X 2

| | |
| --- | --- |
| | Defense Rating +10 / MP Regen +0.4 / Add STM +40 |
X 5 , X 2 , X 2

| | |
| --- | --- |
| | Absorb Rating + 1.0 / MP Regen +0.6 / Add HP +20 |
| | |
| --- | --- |
| X 1 | |
X 2 , X 3 , X 2 , X 2

| | |
| --- | --- |
| | Defense Rating +20 / MP Recovery +0.8 / Add STM +50 |
| | |
| --- | --- |
| X 1 , X 1 , X 2 , X 2 , X 3 | |
X 2 , X 3 , X 3

| | |
| --- | --- |
| | Absorb Rating +1.5 / MP Recovery +1.0 / Add HP +30 |
X 2 , X 2 , X 4

| | |
| --- | --- |
| | Defense Rating +30 / MP Recovery +1.0 / Add STM +50 |
X 5 , X 5

| | |
| --- | --- |
| | Absorb Rating +2.0 / MP Recovery +1.2 / Add HP +30 |
X 1 , X 5 , X 1 , X 5

| | |
| --- | --- |
| | Defense Rating +20 / MP Recovery +1.2 / Add MP +60 |